MAY PROMOTIONS
Shop for Eminence and Elate PLUS the NEW Clean + Green Marketplace products!
FREE SHIPPING for all orders $150 +.
Plus 3 samples included in every order!
FREE LOCAL DELIVERY* for all orders $50+
*Local Delivery Zone must be within the boundaries of South Kingsway, Annette St, Dufferin St & Lakeshore Ave in Toronto.

Organics by Heather
Local Handmade Organic Cotton Products
reusable makeup pads
washcloths
headbands
FREE Fizzofoliant
FREE Stone Crop Oxygenating Fizzofoliant (1 oz travel size) with any purchase of $100 or more*
*no code needed as product will automatically be added to all orders that qualify. $15 value, one per customer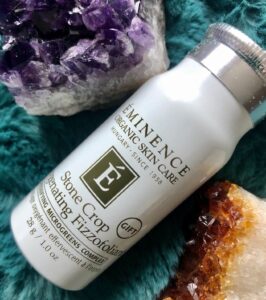 FREE Lip Balm
Purchase ONE Moisturizer from the All Mineral SPF collection and receive a Rosehip & Lemongrass Lip Balm SPF 15 for FREE!
($34 value)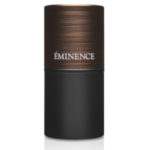 15% Discount for first Online Order!
First Online Order with Juniper?
Use code NEW15 for a 15% Discount on your purchase!
THANK YOU for telling someone about Juniper!
You will receive $10 to spend at Juniper's online shop for every service or product referral. No restrictions, limitations or minimum purchase required for spending it. Just a little THANK YOU for a gesture that has a BIG impact!
Here's how...just mention who you referred, or have them mention you or list your name in the online purchase notes. Please don't hesitate to ask for the Referral Bucks, you earned it and I'm excited to give them to you!
Eminence Mini Facial Kit $25 Includes:
* Headband
* Instruction Sheet
* Stone Crop Masque travel size 0.5 oz
* Artic Berry Peel & Peptide Illuminating System sample
* 5 samples to customize your skin type & specific needs including Cleanser, Toner, Exfoliant, Oil Serum, 2 Masques
* Chocolate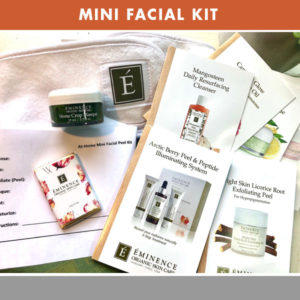 ONGOING PROMOTIONS
FREQUENT FACIAL PROGRAM
After 4 facials receive 20% off your 5th
After 9 facials receive 30% off your 10th